The team has built, prepared and run a huge variety of championship winning saloon and sports cars. Many of which have raced in the most competitive one-make championships in the country – the ultimate place to prove the worth of a driver and team. Mark Started racing himself in the Renault 5 TS championship in 1983, preparing the car from his small workshop business. In 1985 he  won the championship.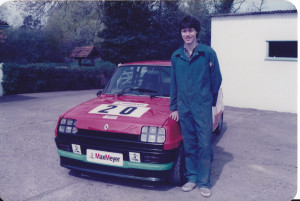 After a two year gap Mark built and successfully raced an Alfasud before moving into the Renault 5 GT Turbo's in 1989. This was arguably the most competitive championships in the country (with regularly over forty enteries per race) and saw Mark race against some established drivers. Sponsorship came from 'Harlow Group'. The campaign in 1990 was very successful and he finished 3rd overall behind Micky Allen and Jim Edwards Jnr (Who would drive for the team in the Clio cup, winning the championship in 2000).
In 1991 he moved to the new Clio cup 16v championship, which was a direct feeder to the touring cars, and still is today. Prize money was very strong and the television coverage drew some of the best drivers in the country into the championship. The top ten cars in qualifying would regularly be split by half a second. He finished 4th overall.  He competed in three Races in Europe and in Monaco representing one of three UK drivers (supporting Formula 1). The team grew to three cars in 1993.
The teams experience continued to grow through the 90's with the 'Super Coupe Cup', Ford Fiesta 1998 and Porsche 924. A notable achievement for the team was winning the hotly contested Renault 5 GT  Turbo championship 7 years in a row.
The new Mk2 Clio cup was launched in the year 2000 with a strong assault from Mark Fish Motorsport – running 4 cars. The team won the constructors and drivers championship with Jim Edward Jnr with a race to spare – against some of the best touring car teams in the country. In 2001 the team prepared and built two Clio V6's to race throughout Europe, including qualifying and racing in the tightly contested F1 support race in Monaco.
The team has been running cars in the BMW Mini Challenge Championship since its' first year in 2002, winning  6 Class championships and firsts overall.
We continue to prepare a vast array of machinery for competition and track days, from a V12 BMW 850 racer to a Daihatsu Charade Gti giant slayer – and not forgetting the older Renault cup cars that still regularly visit the workshops.
We are also very proud to be the only team (possibly in the world?) who has campaigned cars in every guise of the Renault Sport one-make UK championships that have existed in the past 40 years. The Renault Spider is a slight exception in that we have since maintained and prepared them for sprints and hillclimbs.